Employers are conscious of providing a safe environment for their staff. Sometimes the actual physical demands versus safe physical demands are not known and that is where we come in. Our history of work has varied from assessments at airports, ships, and factories.
Physical demands or manual handling can refer to "any activity requiring a person to interact with their environment and use any part of their muscles or skeletal system to lift, lower, push, pull, carry, throw, move, restrain or hold any animate, or inanimate, object." (Department of Labour, USA). BodyLab's analyses via observation, video recording, and measurements with specialist tools (eg. force gauges, 3D accelerometers).
The data we can collect is extensive. The end result can include this type of summary…
Example 1 – Factory Work
The Dictionary of Occupational Titles (1991) lists the type of work analysed as an occupation requiring "heavy" physical demands. It typically requires the ability to exert up to 23-45kg of force occasionally, 11-23kg of force frequently and 5-10kg of force constantly to move objects.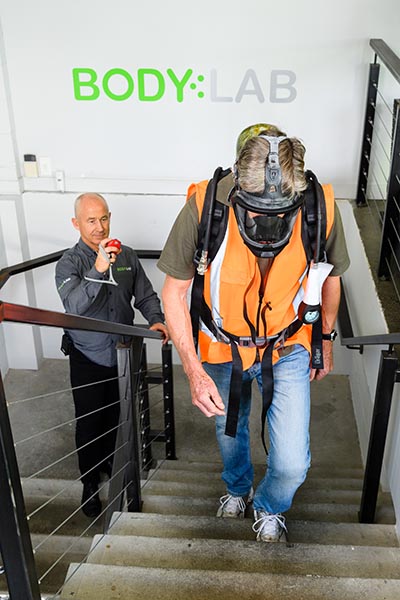 The specific physical demands of this role include:
Frequent pulling forces of 19kg (up to a maximum of 160 times in a day)
Frequent 25kg carry for <1sec (up to a maximum of 160 times in a day)
Frequent standing (up to 20 mins per pallet)
Walk up to 16km over a day
Be physically active for 8 hours per day at an average energy expenditure of 2.7 METs (requiring a minimum cardiovascular fitness of 10 METs to minimise fatigue)
Expend 3215.6 kilocalories over a day
Grip strength of at least 40kg on each hand (based on the average of 4 workers tested)
If risk to staff is picked up we will alert this with examples like this….
There is strong evidence 1,2 in the literature that supports a higher risk of injury for the lower back when there is frequent bending with load. The compressive forces on the spine are very high in this position. A way to reduce risk here is to have the empty pallet (the one for ingredients to go on) at a higher level. A Walkie Stacker for example could control this and be adjusted as the ingredients stack higher.
Cost – please call or email