Results from the Physical Job Demand Analysis allows us to design a pre-employment screening protocol which can be validated. This allows for the correct match of a potential applicant to the job. It can also be useful to test worker's fitness to return to work after a prolonged absence.
The following is an example of a protocol based on a Physical Job Demand Analysis
Physical Attributes
Physical Assessment Criteria
Muscular Strength
• 28kg box lift from the floor to be placed on adjacent bench at 100cm height.
Muscular Endurance
• Step up and down from a 30cm box, 30 times.
• Carrying a 28kg weighted box at waist height for the distance of 5-8 meters and back.
• Pulling a trailer 5 meters (and pushing back to start position) which would require approx.
77kg of pulling force.
Functional Agility
• Completing an obstacle course comprised of climbing a ladder, crouching under and stepping
over obstacles then manoeuvering whole body around a course.
Cardiovascular Endurance
• Complete 800m brisk walk in a defined time.
Grip Strength
• Grip strength of plus 40kg.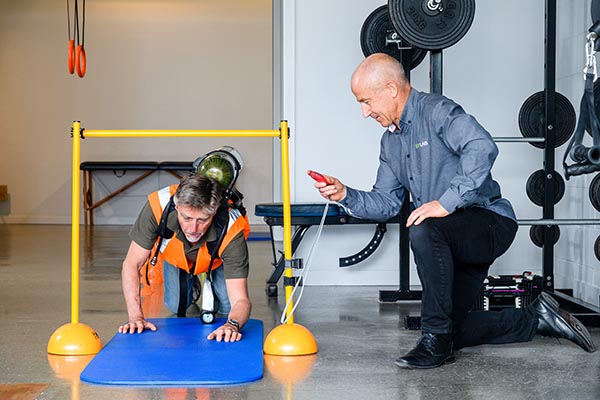 Overseas studies have reported a significant cost-benefit from this pre-employment process1. The referenced study looked at the effectiveness of a physical abilities test in decreasing injuries in US railroad workers. It reviewed 16,500 subjects during 1995–2000 to review whether this type of testing decreased injuries, days lost and compensation costs.
The results were significant: Injuries decreased with 50% fewer days lost (ie. 72.5 mean days lost for test group compared with 148.2 days for non-test group), 80% lower compensation costs (ie. $12,600 mean cost for test group compared with $67,900 for non-test group). Reference: 1 Geerhart, (2002) ACSM Conference, St Louis, USA.
Cost – please call