Resting Metabolism or Resting Energy Expenditure (REE) is the minimum amount of calories a person requires without voluntary movement.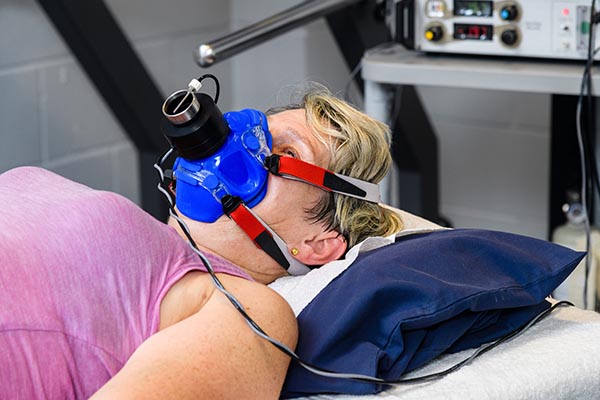 Feeding status and the amount of fat-free weight (ie. muscle) have the greatest impact on a person's metabolism. This is why exercise becomes so important in weight loss programmes as it helps to develop muscle and promote an optimum metabolism. Under-eating on the other hand will reduce a person's metabolism as this is the body's way of protecting itself from wasting away.
If weight loss has been an issue for you then it will be worthwhile finding out your resting metabolism. This can then be monitored at different intervals to check that your eating and exercise regime is working. The advantage of testing with our technology is finding out how much fuel comes from carbohydrate and how much from fat.
The process takes about one hour. The first 20-30 minutes is a rest period prior to placing on the face mask. You then wear the mask for a further 20-30 minutes. Our goal is to find a 5-15 minute period when you are absolutely relaxed without movements or physical or mental distress.
---
Preparation
There are some pretesting requirements regarding meals and beverages.
These are as follows:
Light Meals (< 500 kcals) – 4 hr fast
Medium/Heavy Meals (>500 kcals) – 8 hr fast
Caffeine Beverages – 8-12 hr fast
Non caffeine beverages (ie. milk, meal substitute shakes)
Nicotine Use – 8-12 hr fast
Light to moderate exercise – Abstain 18-24 hr
Intense exercise – Abstain 48hr
Restful sleep requirements – 8-12hr
---
Cost – $145.00 (incl GST)